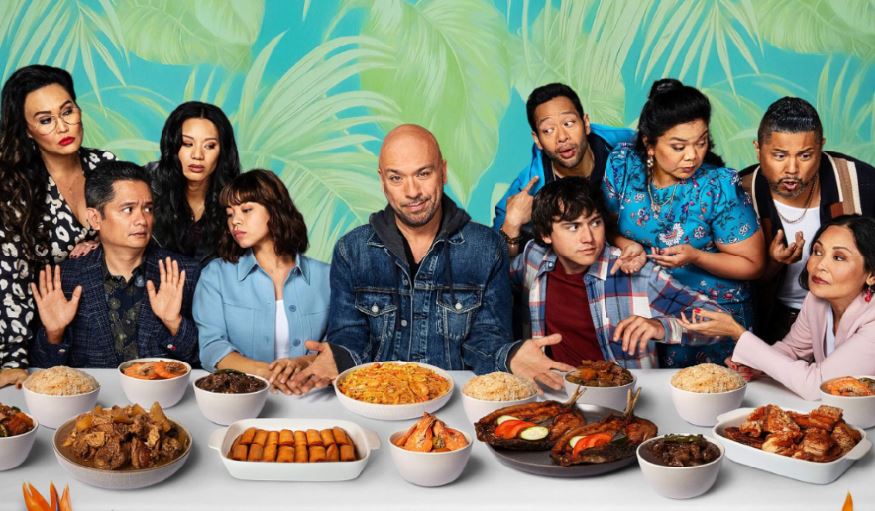 The first all-Filipino Hollywood film "Easter Sunday" has been hailed for representing the Pinoy diaspora heritage and culture, breaking new ground in American films.
Easter Sunday, which tells the story of a Filipino family in America, is top Hollywood comedian Jo Koy's love letter to his Filipino-American community based on the real-life struggles of Joseph Glenn Herbert, Sr. (Jo Koy himself).
Jo Koy stars in his debut feature film along with a cast of well-known American actors of Filipino descent led by Lou Diamond Phillips (La Bamba), Tia Carrere (General Hospital), Eva Noblezada (Miss Saigon, Yellow Rose), Eugene Cordero (Star Trek), Rodney To (Parks and Recreation), Melody Butiu (NCIS, Cold Case), Brandon Wardell (Comedy Central), Joey Guila (Fabulous Filipino Brothers, Lumpia 2), and Lydia Gaston (The Path). Crazy Rich Asians actor Jimmy O. Hang and Like A Boss star Tiffany Haddish join the cast.
The creatively sentimental and comedic dramatization of Jo Koy's life was recognized 'A Milestone for Filipino Representation in Film' by SAMPAN, a New England biweekly newspaper that chronicles local issues and events in Asian American communities.
In her film review published on September 8, Author Sonia Cavazos wrote extensively about the Hollywood movie's purpose to bring Filipino representation to American films with its theatrical release in the United States on August 5, 2022, and on August 31 in the Philippines.
Cavazos gave a history lesson on how Filipino representation was lacking in Hollywood despite Filipinos being the third highest group of Asians in America.
The SAMPAN article noted how there are actually a lot of Filipino actors on the international scene but are unfortunately not given Filipino roles in movies.
Complete with facts and figures, the movie review took note of Filipino actors who already made their mark in Hollywood. Names such as Dave Bautista (Guardians of the Galaxy, Avengers), Dante Basco (Hook, Avatar: The Last Airbender), Jacob Batalon (Spiderman), Manny Jacinto (The Good Place), Ella Jay Basco (Birds of Prey), and Lou Diamond Philips and Tia Carrere (who are both in Easter Sunday) were mentioned as "turning heads for their prominent roles".
A celebration of Filipino representation at @Jokoy's #EasterSundayMovie premiere last August 31, 2022, with performances by @Espanto2001, #Fateeha, #JMara, and #Morobeats. @GoodNewsPinas_ https://t.co/xaPnWMyjEc

— Martina Torres (@martinajoyce_) September 14, 2022
"This movie and its representation challenge stigmas and stereotypes of Filipinos by sharing stories told by them," Cavazos said in the review.
Jo Koy's integration of culture, comedy, creativity, and another classic Filipino trait, sentimentality was celebrated in both the film and the review.
The Filipino American comedian, known for his stand-up comedy spotlighting Filipino culture, points out that his favorite scene which made him tear up during filming was the preparation of Balikbayan boxes.
An integral part of Overseas Filipino Workers (OFW) culture, Balikbayan Boxes are filled with goods and clothes sent back to the Philippines.
Jo Koy refers to it as a must-see for viewers, "This is what we do. These people that live in this country, they're taking care of other families."
Adherent to family-oriented Filipinos, Easter Sunday follows the life of Joe Valencia, the character of Jo Koy. He comes home to celebrate Easter with his chaotic Filipino family and it ends up being a reality check and a reminiscing of his past struggles.
Praise for @Jokoy @eastersunday's representation of family ties and Filipino-Americans. @GoodNewsPinas_ https://t.co/GnrCNGlxfA

— Martina Torres (@martinajoyce_) September 14, 2022
The film is directed by Asian-American comedian Jay Chandrasekhar and is distributed by Universal Pictures and Amblin Partners.
Easter Sunday may have been getting mixed reactions from Filipinos and foreigners alike but there is no denying that this is a milestone for Filipino representation, just as the review had promised.
While Easter Sunday has marked itself as the first Hollywood film centered around a Filipino family in America and having its film team raising funds for Fil-Am charity, other prominent Filipino-Americans had earlier paved the way for representation of their heritage in Hollywood film and television such as the all-Filipino cast of voice actors led by Nicole Scherzinger and Darren Criss in Netflix's first Filipino anime series, Trese, Eva Noblezada and Princess Punzalan with the Philippines' Lea Salonga in Yellow Rose, and Karate Kid's Tamlyn Tomita.
TELL US what you liked best in the movie and SEND MABUHAY CHEERS in the comments below to Jo Koy and "Easter Sunday" for its ground-breaking Filipino representation in Hollywood film!
Good News Pilipinas is a Lasallian Scholarum Awardee. TELL US your good news story tips by messaging GoodNewsPilipinas.com on Facebook, Twitter, Instagram, or e-mail editor@goodnewspilipinas.com and WATCH Good News Pilipinas TV YouTube & Good News Pilipinas TikTok for more Filipino Pride stories!
Facebook Comments