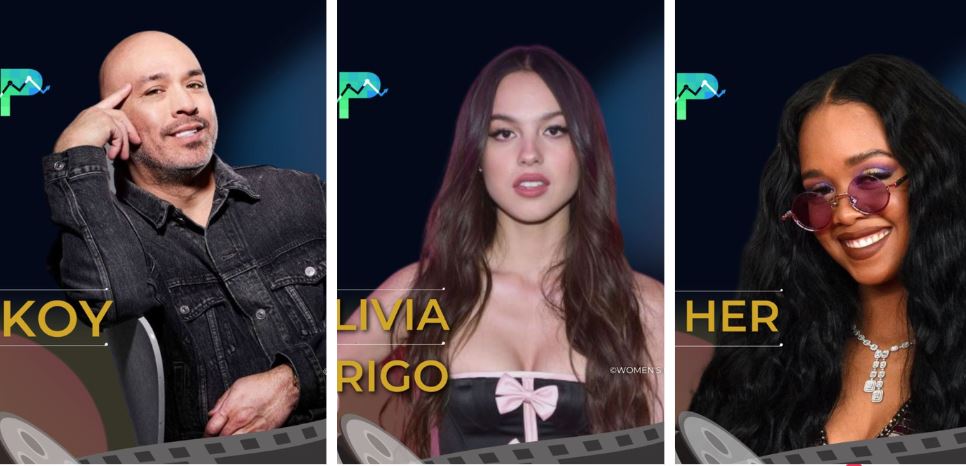 Top Hollywood comedian Jo Koy leads this year's 75 Most Influential Filipino Americans (MIFA) list released by America's first Fil-Am Hollywood entertainment podcasting show, Blog Talk with MJ Racadio, in celebration of Filipino-American History Month.
The annual MIFA released on October 18, 2022, placed the star of the first all-Filipino Hollywood film, Easter Sunday, in the No. 1 spot on the list of top Fil-Am influencers in Hollywood entertainment, business, and philanthropy.
Celebrity blogger-reporter MJ Racadio released the MIFA list to recognize the excellent virtues of Filipino Americans – the second-largest Asian American group in the United States and the third-largest ethnic group in California. The Filipino American National Historical Society notes that the celebration of Filipino American History Month in October commemorates the first recorded presence of Filipinos in the continental United States, which occurred on October 18, 1587, when "Luzones Indios" came ashore from the Spanish galleon Nuestra Senora de Esperanza and landed at what is now Morro Bay, California.
"Post-Pandemic: many Filipinos are still striving to make ends meet despite the economic hardship and inflation. We Filipinos have risen above the ashes. We are determined to make a difference no matter what. We excel in any industry, particularly in entertainment. On the other hand, we do not forget to give back to the community in the U.S. or back home in the Philippines," Racadio wrote in the introduction of the list.
Racadio is also scheduled to announce later today on his show the MIFA Hall of Famer (Top 10 twice or more) and Lifetime Recognition.
Jo Koy is joined on the list by his mom, Josie Harrison, and Easter Sunday co-star Tia Carrere, The Star Wars actor Manny Jacinto, Tony-nominated actress/Grammy winner Eva Noblezada and fellow Yellow Rose actor Princess Punzalan, and pioneer actor Dante Basco and the Basco Brothers.
Musicians on the MIFA list include multiple Grammy winner H.E.R., Billboard chart topper Olivia Rodrigo, Pussycat Dolls' Nicole Scherzinger, Original Pilipino Music advocates Martin Nievera and Paco Arespacochaga of Introvoys.
Entertainment behind-the-scenes movers on the list include Pixnoy Ronnie Del Carmen, Disney animation director Bobby Rubio, cinematographer Matthew Libatique, and event organizer Luis Pedron of the International Film Festival Manhattan.
Social media influencer Bretman Rock and TikTok star Bella Poarch also made the list.
Here are the 75 Most Influential Filipino-Americans of 2022:
Jokoy-Award Winning Stand-Up Comedian/Moviestar/Advocate of Filipino Representation in Hollywood
John Singson-(Real Estate Mogul/Philanthropist (Belongs to the Famous & Powerful Singson Family Clan)
Elton Lugay- TOFA- The Outstanding Filipinos in America Awards Pioneer
HER- Grammy, Oscar & Golden Globe Winning Recording Artist (Hollywood Representation)
Olivia Rodrigo- Grammy Award Winner/Philanthropist-Plus1 Women Empowerment
Augie Max Vargas-Emmy Award Winner (Filipino Representation Advocate in Hollywood)
Ronnie Del Carmen-Oscar Nominated Co-Director of Inside Out/Netflix
Dante Basco- Pave the way to Filipinos in Hollywood/Actor/Director
Nicole Scherzinger-Member of Pussycat Dolls, Grammy Nominated Recording Artist/Judge Mask Singer
Ben Bulatao-6-Time Emmy Nominated Editor of Deadliest Catch
Ted Benito-Apl De Ap Foundation/Producer/Philanthropist
Martin Nievera- Concert King of Philippines/Original Filipino Music Advocate
Dave Batista- Hollywood Actor/Philanthropist
Brendan Flores- Youngest President & National Chairman of (NaaFFa) National Federation of Filipino American Association.
Matthew Libatique- Oscar Nominated Cinematographer
Reggie Lee- Hollywood Actor/All Rise, Lincoln Lawyer/Asian Representation in Hollywood
Tia Carrere- Hollywood's Triple Threat/2-Time Grammy Winner
Van Dichoso- Riverrock Films Co-Owner/Hollywood Producer/Philanthropist
Bretman Rock- Social Media Influencer/MTV Reality Star
Bella Poarch- Tiktok Star over a billion views. International Recording Artist
Cher Calvin-Emmy Winning Anchor/Vice President of Los Angeles Press Club
Lou Razon- Miss Philippines USA/Fashion Designer/Philanthropist
G Tongi- Fil-Am Arts/Philanthropist
Mutch Carino- Spotlight TV/Philanthropist
Jesse & Jcas- Over a Glass or Two Hosts/Philanthropist
Erwin Valencia-NBA's Director/Training/Conditioning/Philanthropist
Rhiza Pascua-Superstars Concert Producer
Cecelia Ramos-Historic Filipino Town/Philanthropist
Eva Noblezada-Tony Nominated Actress/Grammy Winner
Jannelle So Perkins-Award-Winning TV Host/Philanthropist
Troy Laureta-Award-Winning Music Composer
R' Bonney Gabriel-Miss USA 2022/Philanthropist
Kenneth Barlis-Hollywood Fashion Designer/Project Runway
Garth Garcia-Award-Winning Recording Artist/Fil-Am Prince of Pop
Jordan Andino-Celebrity Chef
Kiana V- Member of Grammy Voting Class/International Recording Artist
Richard & Imee Maghanoy- Hollywood's Skincare Expert
Dr. Leo Pandac- Historic Filipino Town
Jason Lustina- Pioneer of SoCal Filipinos
Puey Quinones- Hollywood Fashion Designer
Carl Andrada-Filipino Fashion Designer
Filbert Kung-Hollywood Celebrity Photographer
Sthanler Mirador- Hollywood Celebrity Photographer
SIPA Search to Involve Pilipino Americans-Non-Profit Organization
Roger Oriel- Asian Journal Publisher
Ron Quesada of Kulintronica
Sonia Delen- Apl De Ap Foundation/Filipino Food Movement
The Basco Brothers-Hollywood Actors/Producers
Arianna Basco-Songwriter/Producer
Jeremiah Abraham-Hollywood's Communication Executive
Luis Pedron- Pioneer of International Film Festival Manhattan
Vanessa Minnillo-Lachey- Hollywood Actress/Philanthropist
Rane Rose-Entrepreneur/Philanthropist/Publisher
Jeffrey Jimenez- Event Producer/Philanthropist
Angela Perez Baraquio Grey/Miss America 2001/Character Education Advocate/School Principal
Manny Dela Rosa-Manny the Movie Guy/Emmy Winner
Keesa Ocampo-Emmy Winner/Filipino Food Movement
Paco Arespacochaga-Original Filipino Music Advocate/International Filipino Band Introvoys
Alexis Bong Monsanto-Hollywood Fashion Designer
Melody Garcia-UNICEF Advocate/Motivational Speaker
Jocelyn Enriquez- Award-Winning Recording Artist/Philanthropist
Tommie Mopia-Concert Producer
Mark Labella- Hollywood Actor/Award-winning screenwriter/S.W.A.T.
Manny Jacinto-Hollywood Actor/9 Perfect Strangers
Princess Punzalan-Award-Winning Actress/Cleaning Lady
Wendy Lindo-The Wendy Lindo Show/Philanthropist
Josie Harrison-Jokoy's Mom/Radio Host/Philanthropist
Ranella Ferrer-Queen of National Anthem/Recording Artist/Reality Star
Mic Diaz- Concert Producer/Promotes Filipino-American Artists
Jules Graeser-Award-Winning Host/Philanthropist/Recording Artist
Bobby Rubio-Director of Disney's Float
Julia Abueva-Broadway Actress/K-Pop the Musical
Pen De Leon Manahan-Concert Producer/Philanthropist
Thelma Sugay-Journalist/Philanthropist
Rally Vargas aka Papa Gio-Internet Radio Host of V81 Radio
.@Jokoy headlines 2022 edition of 75 Most Influential Filipino Americans in Hollywood entertainment, businesses, philanthropy @MJRacadio #FilipinoAmericanHistoryMonth FULL STORY on @GoodNewsPinas_ https://t.co/IJHcHStOtr

— Angie Quadra-Balibay (@AngieQBalibay) October 18, 2022
TELL US in the comments below who do you think should be on the Most Influential Filipino Americans list next time?
Good News Pilipinas is a Lasallian Scholarum Awardee. TELL US your good news story tips by messaging GoodNewsPilipinas.com on Facebook, Twitter, Instagram, or e-mail editor@goodnewspilipinas.com and WATCH Good News Pilipinas TV YouTube & Good News Pilipinas TikTok for more Filipino Pride stories!
Facebook Comments