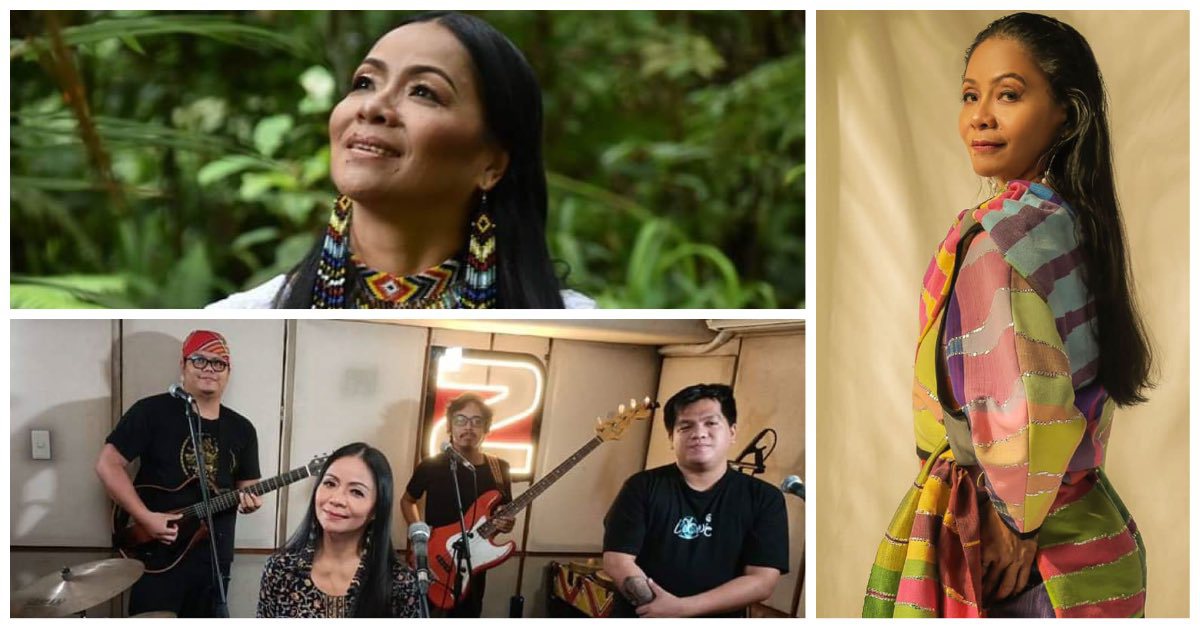 Let's watch Filipina music icon Bayang Barrios talk about her inspirations for songwriting, empowering women and indigenous peoples through her music, and more in an exclusive interview on the Good News Pilipinas! TV YouTube channel.
The multi-awarded singer-songwriter has been a staunch supporter of women's and indigenous peoples' rights all throughout her career since she debuted as a member of Joey Ayala at Ang Bagong Lumad, going solo, and working with her current band, Ang Naliyagan. Barrios continues to serve as an inspiration to many by featuring indigenous elements and powerful messages in her music.
Bayang is the singer behind beloved hits such as the Metropop award-winning song "Malayo Man, Malapit Din", Katha Awards winner "Bagong Umaga", her prayerful "Harinawa", and more. She was also among the featured artists in the music video for the "We Sing" International Women's Day song last year.
In time for this year's celebration of International Women's Month, the acclaimed Filipina singer, composer, and activist joins Good News Pilipinas! TV anchor Trixie Esguerra of Positivitrix in the sixth episode of the new series, "Filipino Pride Newsmakers".
In the episode, Bayang Barrios reveals how she stays true to her roots as a singer and artist from the Manobo tribe of Agusan del Sur.
The world music artist writes and composes her own songs that reflect her experience as an indigenous Filipina musician since she first rose to prominence after meeting Joey Ayala and becoming part of "Ang Bagong Lumad," the iconic performing group that played indigenous musical instruments and sang the music of people's struggles.
As a solo artist, Bayang has traversed many paths in the music industry, including venturing into the world of musical theater over the years as the star of the longest-running hit jukebox Filipino musical, Rak of Aegis, and an original member of the cast of the musical "Lean" about the martyred University of the Philippines activist, among many others.
Bayang most recently starred as Diwata and led world-class performers in the "Daluyong ng Diwa (Tides of Our Soul)" musical at the Dubai World Expo in February.
With multiple industry awards and several albums to be her name, Bayang Barrios shares some of the inspirations and the stories behind her hit songs in the exclusive interview.
Bayang also talks about the challenges she faced in the industry and working on new music and an album in the midst of a pandemic with her band, Ang Naliyagan, and her life and music partner, Mike Villegas of Rizal Underground.
Bayang Barrios, together with her band, Ang Naliyagan, recently released the new single titled "Magbabaya," a mutual term among the Manobo, Higaonon, Talaandig, and other Mindanaoan tribes, which means Manlilikha (Creator).
Stream Bayang Barrios on Spotify here.
The celebrated indigenous people's and women's rights champion also now uses her powerful voice to campaign for more worthy causes such as human rights youth education work.
Bayang recently joined her musician friends and fellow Filipino music icons in the ongoing Pancitan live music bar series for a good cause.
Here's the interview teaser:
The new episode is part of the series introduced as the "Filipino Pride Newsmakers" which features live interviews with personalities from the Philippines and around the world who are making good news headlines for making every Filipino proud.
The first batch of the interview series which premiered with Morissette, Christian Bautista, Chinkee Tan, Quiccs, and Trina Belamide, will also feature candid interviews with Moy Ortiz of The CompanY, Liter of Light Filipino innovator Illac Diaz, Filipino music icon Jose Mari Chan, and the Little Picasso of the Philippines Worth Lodriga.
WATCH the exclusive interview with Filipina music icon Bayang Barrios premiere this Thursday, March 10, at 9:15 AM, and SUBSCRIBE for notifications on more fresh video content on the Good News Pilipinas! TV YouTube channel this 2022!
TELL US your good news story tips by messaging GoodNewsPilipinas.com on Facebook, Twitter, Instagram, or e-mail editor@goodnewspilipinas.com and WATCH Good News Pilipinas TV YouTube & Good News Pilipinas TikTok for more Filipino Pride stories!
Facebook Comments